A Summer Floral Bouquet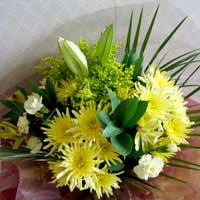 Summer is a fantastic time of year for a florist. You get the opportunity to create wonderful summer bouquets and designs. It is also a time of year when flowers look so bright and cheerful and immediately remind you of warm summer days. A florists' is always packed full of vibrancy and colour at this time of year - there is such a wide choice of beautiful blooms and rich foliages.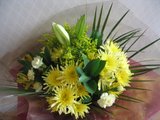 A bouquet is one of the quickest and simplest things to make for a florist and during the summer you can create maximum impact with a few choice coloured flowers and foliage. Certainly a summer haze bouquet would be the perfect gift for birthdays anniversaries and would definitely bring a smile to the face of someone who is not well. If it is for a special occasion, elaborate gift wrapping such as luxury paper or cellophane finished off with a sumptuous tie would really make it.

How to Create a Summer Haze Bouquet
The emphasis here must be to create a bouquet that just shouts "sunshine!" Think yellow, oranges and reds. The design should draw you in, radiate warmth and make you feel happy. So think flowers that do just that.
Perfect summer flowers include; roses; gerbera; chrysanthemums; carnations; dahlias; lilies; lisianthus; protea; celosia; lutea; hypericum; sunflowers; delphiniums; lupins; gladioli and allium.
The majority of these flowers are now available all year round so you can bring sunshine and summer to someone anytime of the year. They can be bought from the florists or from any major supermarket.
Materials
Four stems of solidago; one stem of Asiatic lily; three stems of spray chrysanthemums; three stems of alstromeria; bunch of spray carnations; hard ruscus; five palm leaves; string; pot tape; cellophane; sellotape; bow.
Method
Lay out the flowers, foliage and filler. Remove any leaves at the lower end of the stems below the binding point
Cut string to tie bouquet and make a bow
Take the Asiatic lily and a piece of filler and place them together to create a focal point. Start adding the solidago in a clockwise direction at an angle
Place three sections of spray chrysanthemums in a clockwise direction at an angle at all times hole the bouquet tightly in your hand. Add more filler in sections
Add the alstromeria in three equal sections around the bouquet and place a few sections of ruscus. Add spray carnations in three equal sections. At all times hold the bouquet tightly and turn it as you add the materials in at an angle
Finally add the palm leaf ( five pieces) as a "frill" around the bouquet
Carefully tie it with pre cut string and bind this for added security with pot tape. Cut stems equally and test it by standing the bouquet upright (it should stand up!)
Cut the cellophane and place the bouquet on its side upon it then pull up one side of the cellophane to cover the bouquet and tuck it around and secure with sellotape. Repeat this with the top edge of the cellophane coming to just the top of the bouquet. Tie with bow!

FLORISTRY EXPERT IS FOR SALE. This website is for sale [more info].

You might also like...