Create Longer Lasting Floral Displays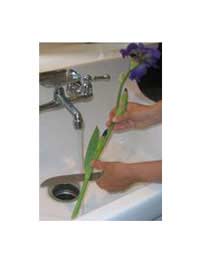 There is nothing more frustrating than spending hours arranging a floral display, only to have everything drooping by the time company arrives. Or worse yet, perhaps you are entering an arrangement in a flower show with your garden club, and the last thing you want is to be embarrassed in front of all the other members.
Choose Fresh Flowers
To achieve longer lasting floral displays, keep in mind the three Cs of flower arranging:
Choosing the flowers
Conditioning the flowers
Containing moisture for the flowers.
Your first key to success is to choose flowers that are obviously fresh. Often this means selecting those that have a lot of small buds. You will want to calculate the timing so the buds are in the right stage of bloom for your floral display. Avoid flowers that are wilted, tinged with brown spots, or are otherwise damaged.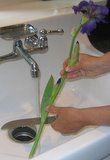 Condition
The next step is the most important. You need to condition and store the flowers until you are ready to use them. First cut the stems at an angle with a sharp knife.
Experts recommend doing this while holding the stem under running water, especially for roses. Until you are ready to start arranging, place the flowers in a vase of lukewarm water. Remove all leaves that will be under water as this is a prime source of bacteria that will prematurely wilt the flowers.

Then add one of the following to the water to extend the life of the flowers:
A spoonful of sugar
A packet of commercial flower food
100 ml. lemon-lime soda mixed with 250 ml. water
2 crushed aspirin and one tablespoon of sugar dissolved in warm water
You will also want to keep the water clean by adding two drops of bleach to prevent the growth of bacteria. Others swear by adding a teaspoon or two of gin, which can also come in handy after designing a difficult arrangement.
Keep the flowers in a cool place away from heat and light. Most of us would not be able to fit them in our refrigerator, so a basement area is ideal. Change the water every day until you are ready to use them.
If you plan to use oasis foam to hold your flower display, soak the foam overnight in water with the holes side down.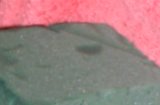 The oasis will soak up the water and you will be ready to go.
Now you are ready to make your floral display. Before putting the flowers in place, snip off the end of the stems again. Make sure everything is thoroughly submerged in water or the oasis.

Cool Temperature
When finished, keep your floral display in a cool room, again away from heat and light. Add water every day, treated with the sugar, aspirin, or commercial flower food, etc. For flowers that stay fresh but have a tendency to droop such as gerbera daisies and sunflowers,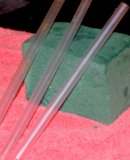 use small plastic sleeves that can be purchased from any floral supply shop.

Flowers that are known to be naturally long lasting include:
Carnations
Tulips
Hydrangeas
Purple statice
Lisianthus
Sweetheart roses
Chrysanthemums
If you follow the above steps, you will have long lasting floral displays that you will be proud to show. Enjoy the fruits of your labor, and don't forget to take a photo for memories that will last forever.
You might also like...
Hi All! Do Alstroemerias last in an oasis arrangement? Please advise. Many thanks and sunny greetings Kris
Kris
- 10-Nov-20 @ 7:26 AM
Hi I am doing an underwater display with silk red roses covering all roses with the water adding wax chystals on the top. But all the red has come out of my silk red roses how can I stop this
Son
- 22-Oct-20 @ 3:22 PM
How many chrysants do I need for a DAD tribute when purchasing 20 stems per bunch. Thanks Treez
Treez
- 6-May-20 @ 1:01 PM
I was wondering if I could make my arrangement with floral foam self watering by adding cotton string to a reservoir of water? I won't be around everyday to water the flowers. Thanks for the help.
Racha
- 10-Mar-20 @ 5:42 AM
Hi I am making son and brother funeral flowers using chrysanthemums the funeral is on a Friday will it be OK to make them on the Wednesday and how do i store them does the oasis need to be soaked overnightthanks.
Hayley
- 25-Feb-20 @ 9:52 PM
I have heard that England was going to bane oasis and had a new black oasis that was more environment safe. Do you know anything about this or where I can find the black oasis?
Savageo
- 14-Oct-19 @ 7:21 PM
I heard there is new oasis that's black and better for the environment. Can't seem to find it. Can you help?
Ellen
- 14-Oct-19 @ 4:19 PM
Hi i haven't done any funeral wreaths before, but wanted to do the DAD letters, as my dads just died. I have watched the videos of making them online. I'v ordered the letters on a frame, and the pre pleated ribbon, but wondered how long to soak the oasis and where as the letters are clipped on apparently? Also I wanted to know how many white chrysanthemums I will need roughly? I was going to do a red rose or carnation spray on each one as well? Am I being too adventurous trying this? Plus people are criticising me saying I will look as though I am hardup doing my own displays? The funeral is on a Tuesday, will it be okay to do them Sunday or should I do them on the Monday? Gilly
Gilly
- 2-Sep-18 @ 5:46 PM
I would like to use Euphorbia characias in an arrangement, and understand that it needs conditioning with a flame. Does this mean that it has to be cut at the right length first time, rather than being able to adjust the length subsequent to picking/conditioning and at the point of arrangement? Many thanks
Ruth
- 17-Apr-18 @ 4:31 PM
I have my granddad funral on Thursday, was told flowers have to be delivered the day before. How long do I soak the Chrysanthemums for before starting as I have little space to store. How long do fresh chrysanthemums take to open please? How manybunches of chrysanthemums do I need to make a letter.
Mazs
- 12-Apr-18 @ 2:35 AM
How many days before the funeral can i make my dad's flowers (oasis)
Nicola
- 2-Mar-18 @ 10:24 PM
Am doing my own flowers .my daughter funeral is in 2weeks . What is the best time to soak the foam n do the flower
Hi I'm making flower reef for mum funeral. I want to use roses what should I use inbetween and how many days before can I do please ?
Chloe
- 31-Oct-17 @ 2:51 PM
Hello I want to make a heart funeralwreath for Tuesday how soon can I make itand what are the best flowers to use want it red and white.thank you
Steph
- 16-Feb-17 @ 11:28 AM
I'm doing my own flowers for my Mum's funeral.I have a 'MUM', 'NAN', 1 x 48in Cross and 2 x 13in Hearts.How many flowers will I need to cover each part?How many days before they're needed can I make a start on them because I don't have much storage space and am worried they will wilt or get damaged.I've only made posies and sprays before and they were quite time consuming. Thank you for your help. :) Nadine
Nadine
- 15-Jan-17 @ 9:02 AM
@holly - I'm afraid we have only just got around to seeing your question today due to the weekend break. I hope the flower arrangements have kept for you.
FloristryExpert
- 11-May-15 @ 1:47 PM
holly, so sorry for your loss ..to answer your question, they sure will , chrysanthemum last ages !.. they will be fine . :)
flower girl
- 10-May-15 @ 6:38 PM
Hi I'm doing floral tributes for my mothers funeral, i am using fresh chrysanthimums, I have started doing them today, will they still be ok by time the funeral comes round on Tuesday? Thank You
holly
- 9-May-15 @ 1:55 PM