Working With Silk Flowers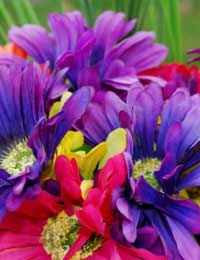 In addition to working with fresh flowers and plants many florists also work with "permanent botanicals" such as silk flowers. In the past silk flowers were often looked down upon as being inferior to fresh alternatives, but today silk flowers can be so sophisticated that many must be touched in order to be distinguished from cut flowers. There are distinct advantages and disadvantages to working with silk flowers, and a variety of options for sourcing silk flowers in the United Kingdom.
Advantages of Silk Flowers
Silk flowers are popular with consumers because they are usually affordable, long-lasting and require little, if any, special care. There is no need to water them, fertilise them, ensure a certain amount of sunlight for them or even give them any regular attention. Silk flowers also have no scent, which make them ideal in arrangements for those with allergies or for public areas in which those who have allergies might be found.
Unlike cut flowers, silk flowers arrangements don't wilt quickly nor die and need to be replaced regularly. Silk flowers also do not become unavailable or more expensive during seasons in which they do not normally bloom. Diseases, insects and unseasonal weather also do not affect silk flowers the way that they might affect live plants and fresh cut flowers. Many florists also enjoy working with silk flowers because in addition to holding their shapes and vibrant colours they can also be more easily manipulated in arrangements.
Disadvantages of Silk Flowers
There are some disadvantages to working with silk flowers. Inexpensive silk flowers can be poorly made and look cheap, unfinished, gaudy or even unnatural in colour. Expensive silk flowers, particularly when used in large and dramatic arrangements, may become more costly than many clients can afford. This may be especially true for special occasion arrangements, such as for weddings or holiday centrepieces, which will not be used on a regular basis.
Consumers who purchase silk flower arrangements still need to keep them clean and dust-free, particularly if they have allergies, which means there is some light maintenance requirements with silk flower arrangements. Some customers may also be turned off by the idea that silk flowers do not offer scents, or still believe silk flowers to be inferior to cut flowers simply due to their material.
Sourcing Silk Flowers
Silk flowers are available from a variety of sources. Artificial floral importers and wholesalers tend to offer a wide variety of silk blooms. Fresh cut flower suppliers and garden centres may also be able to provide silk flowers. Craft shops, specialty silk flower retailers and online retail outlets can also be options for sourcing silk flowers. Though it may cost more, sourcing silk flowers from some fair trade shops and individual artisans and craftspeople may also be possibilities.
Working with silk flowers, also known as "permanent botanicals", is a great way to add to an existing floristry business. Understanding the advantages and disadvantages of silk flower arrangements can help florists better plan their stock, price points and sales strategies. There are a variety of options for sourcing silk flowers throughout the UK, as well as diverse silk flower options from these sources.
You might also like...