Choosing Vases
A vase can make or break a floral arrangement so it is important to get it right. The vase should be selected with care and always have in mind the overall effect it will give. The flowers and foliage chosen for your design should either contrast or harmonize with the vase and the vase itself should suit the occasion and for where it is intended.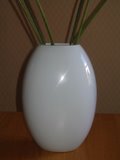 Generally most people have a stock of different sized vases that they have collected over the years or have been given, and obviously these dictate the type of flowers you will but to put in them.
On the other hand there are so many vases and containers on the market these days that you could pick up a variety of shapes and size for very little cost - perfect if you want to do something out of the ordinary.
Second hand shops, car boot sales and jumble sales are ideal for finding a vase that is that little bit different, while larger chain stores stock everything from your expensive ceramics to your mass produced glass containers.

Types of Vases
Before you chose your vase, you've got to decide what you want out of it, where you want to put it and what type of flowers would go with it. You've also got to decide whether you want a pretty, stylish one or a purely functional one!
Just keep one thing in mind – avoid using an explosion of colourful flowers with a very decorative vase. It would clash badly and the visual effect would be disastrous!The florists' mantra is that vases should always "contrast or harmonise" with the flowers and foliage.
Glass vases in particular are very trendy these days – although do be careful handling very delicate glass. Put it down too hard on a surface and that's your glass vase gone! Thankfully most glass vases these days are made from recycled material so are generally quite robust.Nothing looks more elegant or chic than a simple display of lilies in a tall glass container, or floating gerberas in a bowl of water. You can add pebbles coloured glass or even sand of different hues for a more visual effect. Generally with glass it is nice to stick to flowers of one colour – they really do lend themselves to simplicity and strong lines.

Tall vases in particular look stunning with longer flowers such as lilies, delphinium and gladioli interspersed with some fabulous linear foliage or twigs.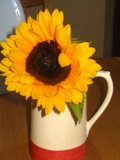 Everyone has probably got a ceramic or china vase that's an old favourite. It could be a sophisticate family heirloom (take care when handling delicate expensive porcelain) or an informal jug or pot – milk jugs are very popular for holding a small display of country flowers. Terracotta pots, which can be picked up cheaply at garden centres, are lovely for tied bunches of the majority of flowers, as the warm colour enhances most types of bloom. While metal containers or different textures and shine – brass, steel, wrought iron etc – can really complement and contrast with the flowers.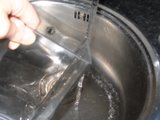 Whatever vase you chose you must think about where you are going to place it. Granny's beautiful porcelain heirloom would look totally out of place in a modern office building; likewise a chic elegant glass vase would look ridiculous in a country cottage.

At the end of the day the choice of vase is purely personal but there are a couple of practical points you should always remember. It seems an obvious thing to say but always make sure your vase is waterproof – essential if you are using fresh flowers – and always make sure it is clean. Bacteria can quickly grow in vases and this can cause your fresh flowers to left off a very strong pungent smell, wilt and die prematurely.
You might also like...