Use Inspiration from a Flower Show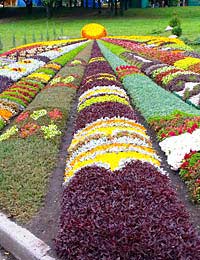 For florists, gardeners and those who just love flowers, taking a trip to one of the big flower shows can be more exciting that going on a foreign holiday.
Whether it's the Chelsea Flower Show, Southport Flower Show or even the church fete featuring community gardens, flower shows not only allow enthusiasts to mix and mingle with others who share their interests, but these shows allow visitors to soak up inspiration for their own projects.
Picking up flower tips, finding arrangement inspiration and checking out different designs are all perks of attending flower shows.
Picking Up Flower Tips
Not surprisingly, flower shows bring together both professionals and amateurs in the floristry and gardening fields. These enthusiasts will all have different interests and areas of expertise, so the majority of people attending flower shows will have flower and garden tips that others can run with and integrate into their own flower projects.
Stopping to chat with stall or entry owners, picking up any literature on offer, and even chatting with other attendees while during breaks can all net a number of new flower tips. Many shows also host associated lunches and dinners, workshops and even lectures. These are all fantastic opportunities for flower enthusiasts to get together and share their favourite tips.
Finding Arrangement Inspiration
Flower shows will contain a large number, and variety, of flowers and greenery. Whether there are formal arrangements on display, specific flowers sitting close to each other or even disparate entries physically near to each other, flower enthusiasts will be able to process all of these elements and (either consciously or unconsciously) come up with a few new arrangement ideas. Seeing how different flowers are cut, wrapped and displayed will likely also offer a bit of arrangement inspiration to all who view them.
Checking Out Different Designs
Many of the major flower shows have complex, in-depth entries that go far beyond a simple flower arrangement and, for all intents and purposes, become portable back gardens. Many of these entries include not just flowers and plants, but outdoor furniture, benches, water features, fountains, bridges, paths, archways and even sheds and cabins.
From these entries, flower show attendees can peruse not just how ornaments and hardware can work with natural elements, but how whole garden design can show off flowers to the best effect and allow people to enjoy these flowers to the greatest extent possible. Flower shows often include designs that themselves had foreign inspiration so those who view them may also go home with inspiration that is quite different from anything else in their area – or country!
Flower shows offer both exhibitors and guests a wealth of inspiration for their own flower care and floral arrangements. Flower enthusiasts who have never been to a flower show should consider adding these events to their annual calendars.
Who knows, maybe after a few years of becoming comfortable with the flower show circuit and implementing all of the tricks and tips they garner from these events, amateur gardeners and florists will become confident enough to exhibit their own work in the future.
You might also like...