Creating a Victorian Posy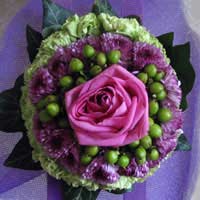 The Victorian posy is enjoying a bit of resurgence. This delicate design first became very popular with brides and their bridesmaids back in the mid 19th century but then slipped out of favouritism in the late 20th century to be replaced with the still very popular shower bouquet.But like everything else in floristry the Victorian posy has gone full circle and has now become very popular with weddings all year round – although it has been modernised! In the last century the Victorian posy used to be backed with starched lace of even a plastic frill. Thankfully we have moved on and gloriously coloured netting raffia and twisted wire and lush foliage have now replaced them.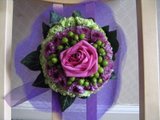 Naturally a traditional look can still be achieved by using your so-called traditional flowers – obviously the rose, but also hyacinths and country flowers such as cornflowers.
The Victorians used pale pinks, blues, lilacs because they simply didn't have the wide range of flowers and colours which are available now. These days you can virtually create a Victorian posy out of any sturdy flower and foliage but to keep it a true Victorian posy you must always have that central stunning rose.
The Victorian posy is both very neat and very fussy. It is basically made up of concentric circles of plant material. The circles were meant to represent everlasting love which is why it was so popular at weddings. It is always domed so that whatever angle you look at it from, it is perfectly equal and has interest.

It can be either wired or done as a natural hand-tied with the stems showing. Naturally wiring is very time consuming but it does give you the flexibility to move your design into shape and have more control over what you are doing.
How to Create a Victorian Posy
Materials
One large rose; four stems of hypericum berries; 15 small headed chrysanthemums; 15 open carnations; ivy; coloured net; complementary ribbon; wires; tape; binding wire.
Method
Lay out all your materials and cut flowers to size. Wire and tape as necessary.
Cut a circle of netting big enough to create a frilly edge around the posy and make a bow big enough to be seen underneath the posy
Starting with the central rose add a ring of hypericum slightly lower than the central flower head. Add a ring of chrysanthemums at all time ensure a domed shape is kept. Slightly lower that the chrysanthemums add a ring of carnations
As each ring of the materials enlarges the posy bend the wires slightly so that the posy remains even but slightly domed
Once you are happy with your shape and you are sure that you have got enough flowers to make a tightly packed posy bind it all together with binding wire
Finish with a ring of ivy leaves and bind again. Cut stems to correct length and bind with tape to create a handle
Add the frill of netting by making a hole in the centre of the material and pulling the handle through it. Make sure that this is tight and secure. Entwine in the netting fine strands of wire to hold it together and create shape
Cover the handle with ribbon and add the bow.
You might also like...
Hi, carrying out a little research, on Posies, due to the book I am writing concerning a Victorian Gent of the 1800's. Yes he had access to large gardens, (his own and neighbors), and would enter shows with which he would mostly win prizes! I know very little on the subject, hence the inquiry. He made miniature posies I believe. Regards.
Tim
- 20-Sep-18 @ 2:13 PM