First Communion Flowers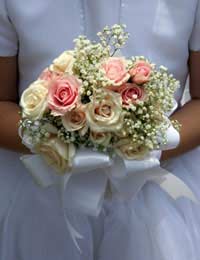 First Communion, also known as Holy Communion, is a Catholic ceremony in which children of seven or eight years of age receive the Eucharist (consecrated bread and wine/the Body and Blood of Christ) for the first time. In many families a party accompanies this sacrament, including special new clothing for the children involved, catered feasts and professionally arranged floral displays. Understanding the flowers commonly associated with First Communion, the types of arrangements usually involved in these events and how to help those who request floral gifts for the children and families who are celebrating should help florists best prepare their stock for these celebrations.
Flowers Associated with First Communions
When children make their First Communions they typically wear white, so light coloured flowers are normal for such floral arrangements. Luckily there are so many different types of flowers available in these hues that there is something to suit everyone. Some flowers, particularly Spring flowers, have associated scents so it may be wise to avoid those so as not to trigger allergies. Flowers often found at Holy Communion celebrations include:
Azalea (pink, white, yellow)
Baby's Breath (white buds)
Bluebell (purple)
Carnations (white, pink, peach, yellow)
Crocus (yellow, purple)
Daffodils (yellow)
Daisies (white)
Gardenias (white)
Gerbera Daisies (white, pink, peach, yellow)
Hyacinths (white, cream, yellow, purple, blue, pink, lavender)
Hydrangea (pink, blue, purple)
Lavender (purple)
Lilac (dark pink, light purple)
Lilies (white)
Magnolia (white, pink)
Peonies (white, pink)
Primrose (white, yellow, pink)
Roses (white, pink, peach, yellow)
Stargazer lilies (white and pink)
Tulips (white, pink, peach)
Arrangements Associated with First Communions
First Communion flower arrangements tend to fall into three categories: for the children, for the church and for the celebrations at home. Before designing arrangements, make sure you check on any restrictions imposed such as if a particular parish has asked that some styles be avoided or prefers for children to not carry flowers at all. Holy Communion flower designs usually cater for:
Single buds to be carried or laid in a Bible/book.
Bouquets or nosegays.
Small baskets of flowers.
Wrist corsages.
Pomanders hung from short strings.
Floral hair wreaths, headpieces, hair clips or hair combs.
Floral accompaniments to veils.
Single blooms to insert into the hair.
Boutennieres.
Alter sprays or arrangements.
Floral garlands or bows to hang from the side of church pews.
Large bouquets for the corners of the church.
A standing bouquet by which children or families might take pictures.
Table centrepieces.
Large arrangements in the shape of crosses, Bibles or hands in prayer.
Floral Gifts Appropriate for First Communions
Guests invited to First Communion ceremonies or celebrations may wish to bring a floral gift to the child involved or the parents hosting the festivities. Simple bouquets are always an appropriate gift. Try to talk people out of large displays or surprise centrepieces which might clash with or overshadow the floral arrangements the family has already chosen. A unique option might also be a gift certificate with which the child could have their special flowers dried and/or pressed so that (s)he will be able to keep them for the rest of his or her life.
Most children who make their First Communion will have some sort of flowers involved in the day. Understanding the flowers most often associated with these celebrations, the types of arrangements typically ordered and what kinds of floral gifts are appropriate to be given by guests are all important parts of boosting your floristry business and taking advantage of this niche.
You might also like...