Floral Table Centre Pieces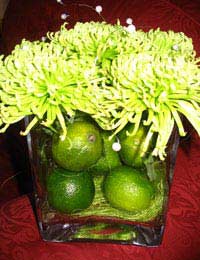 Using flowers as a central focus goes way back to ancient times when the Greeks and the Romans scattered flowers and herbs on the tables for good luck – and also to make the room smell better!
These days every self respecting dinner party special occasion or wedding wouldn't be without one and they give the florist a perfect opportunity to show off their artistic skills and wonderful ideas.
Long gone are the days when you stick a few roses in your cut crystal vase to decorate your table! Now, anything goes – wonderful colours, glorious scents and luxurious textures are becoming the norm.
Fruit can look fabulous, glass beads and coloured water can add a touch of modern chic, while swathes of material wrapped round decorated candelabras, or topiary trees dotted with lights or roses gives the arrangement that something extra and make you stand out as a florist.
Things to Remember
If the centre piece is for a wedding reception then don't make it too high otherwise conversation with the diner opposite could prove difficult! It would either have to be in a very tall thin stemmed vase which would rise above the heads of the diners, or low enough to look over. If you do use a tall stemmed vase make sure that it is sturdy and can't fall over easily
Be careful with the plant material used near food. It has to be in good condition and clean. Don't choose foliage which may leak sap or if you are using lilies, avoid staining by removing the stamens.

If you are using berries, don't use soft ones as they can leach out harmful substances – not good when you're near food.
Also be careful using anything likely to cause an allergy such as nuts or various grasses
And if you use fruit advise people that it's ornamental only and should not be eaten!
Any flowers used should be well conditioned as they won't be in water but generally in floral foam.
The display should be very well done and even all the way round because it's seen by a lot of people, and, if it is in the centre of the table, from all angles.
Materials
Because flowers can be expensive it's often a relief to create a centre piece that won't cost the earth but is stunning and will make an impact.
This can easily be done with: a few colourful blooms (chartreuse chrysanthemums are ideal); limes; decorative wire; floral foam; pot tape; frogs (plastic pin holders used to secure foam into a container); florists' fix ( adhesive on a roll used to secure plastic frogs into position); square glass container.
Method
Lay out all your materials. Cut a small rectangular piece of floral foam which should be about an inch taller than the container. Wet, but do not saturate the foam then place it on a plastic frog and secure it to the bottom middle of the container with fix.
To ensure the foam doesn't shift about criss cross two pieces of pot tape across it and stick the ends to the edge of the container (the ends will be hidden by the flowers.)
Place fresh limes around the foam until they cover the sides. You could use glycerine spray to shine them up. Make sure they fall in an attractive way as the display will be viewed from all sides.
Place your chrysanthemums into the top and exposed sides of the foam to create a nice domed effect.
Gently trail some decorative wire over the display to create a random effect. Place the ends of the wire into the foam, securing by hooking over the ends before putting it in.The result is an attractive centre piece that can be done in a very short time. The different textures and vibrant colours would make an immediate impact particularly against a backdrop of white table cloths and delicate glassware.
You might also like...