Modern Florals for Valentine's Day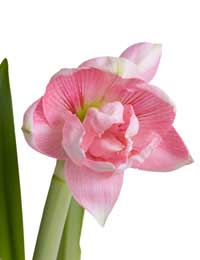 If there's one day in the year that a woman can look forward to flowers it's Valentine's Day. Whether they come from a lover or a friend, a relative or a workmate, or even if she goes out and gets them herself, flowers are so traditional on Valentine's Day that they can easily become something of an afterthought.
But just because flowers are expected doesn't mean that the floral arrangements have to be. Traditional arrangements have their place, but there are also more modern arrangement options that may appeal as well.
Humorous arrangements, minimal arrangements, unexpected containers and plants are all modern options for Valentine's Day floral gifts.
Humorous Arrangements
Valentine's Day is usually considered a fairly serious holiday, one on which declarations of love and affection are expected. But such serious sentiments are not the only messages that can be conveyed through a floral arrangement. Those who would prefer not to celebrate can make their point with dark and even black flowers. Those who disdain the perceived commercialism of the day can select wildflowers from the back garden.
Those who believe that more is better can go over the top with rich red and gold colours. However, it should be remembered that not everyone's sense of humour is the same so what might be funny to one person could be viewed as an insult to another. It's best to think of how the recipient will view a floral arrangement before committing to something with an intended twist.
Minimal Arrangements
There are two fairly traditional arrangements for Valentine's Day flowers: a bouquet or a single stem. Minimal arrangements, however, have become a modern favourite that should translate well for Valentine's Day. Artful arrangements of more exotic stems such as orchids and lilies are always lovely, and "zen" arrangements of just a few blooms with greenery are also popular. Minimising the number of flowers involved but filling in space with unexpected additions such as pussy willow and bamboo are also interesting ways to make minimal yet festive floral arrangements for Valentine's Day.
Unexpected Containers
Even if flowers are more traditional the type of container in which they are presented can turn the arrangement into something more modern. Avoid traditional vases and containers covered with hearts or words of love. Instead, glass cubes present an interesting contrast as do sleek cylinders, brushed or stainless steel containers and "green" options made from natural materials. The more unexpected the container, the less traditional an arrangement will look as a whole.
Plants
Avoiding floral arrangements all together and instead giving plants as gifts is another way to make a more modern statement at Valentine's Day. Decorative plants and plants that can grow when planted are both possibilities, though looking for some type of aesthetics is also a good idea. Flowering plants and fruit plants both offer decorative touches that may be appreciated on Valentine's Day.
While there are several traditional options for Valentine's Day flowers there are also modern options as well. Humorous arrangements, minimal arrangements, unexpected containers and plants are all possibilities for more modern florals for Valentine's Day.
You might also like...