Lunar New Year Arrangements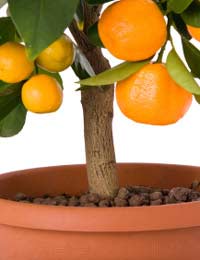 While many people recognise Chinese New Year, not as many people realise that in fact many other Asian nations celebrate the Lunar New Year too.
Solnal is the Korean Lunar New Year celebration, while Tet is the Vietnamese Lunar New Year celebration, both of which take place at the same time as China's festivities.
Singapore, Malaysia, Indonesia, Thailand, Cambodia, Japan and India also celebrate versions of Lunar New Year, though the dates on which these festivities take place do differ.
One thing that all Lunar New Year celebrations do have in common however is that flowers are a wonderful addition to each celebration and there are some items that can help make Lunar New Year flowers even more festive and decorative.
Fruits and Flowers
Each culture has its own thoughts on which fruits and flowers are lucky for specific events, and very often Lunar New Year arrangements will feature oranges and red flowers as both of these are considered good luck in Chinese culture. Oranges and mandarins with the leaves still attached symbolise the sun and nature, and because of this are considered auspicious.
In some Chinese dialects potted orange/mandarin trees sound similar to phrases such as "lucky tree" and so again become considered lucky objects to have in the house at the Lunar New Year.
The colour red is also believed to scare off evil spirits and mythical beasts, so red flowers are used liberally throughout the Lunar New Year. The five petals of the plum plant make this type of flower important for inclusion in Lunar New Year arrangements as five is a lucky number in China.
Peach blossom and kumquat are also well regarded for inclusion in Lunar New Year arrangements as they signify longevity and good fortune. Gold, significant of prosperity and wealth, is also a common addition to flower arrangements for the Lunar New Year so yellow flowers are also popular, particularly when paired with their red counterparts. Sunflowers in particular signify wishes for a good year and common in such arrangements.
Lucky Plants
Instead of adding fruits and flowers to festive arrangements, it is also appropriate to use plants as decorations and gifts during the Lunar New Year. Pussy willow branches are considered auspicious as they contain many silky buds per branch, emblematic of growth and prosperity.
Pine symbolises nobility and longevity while bamboo is considered especially lucky and signifies humility and fidelity. Because bamboo is said to bend during storms but not break, it is also regarded as signifying strength, luck and prosperity. These multiple meanings lead bamboo to be a fantastic addition to flower arrangements and to be given alone as gifts at this time of year.
Decorative Additions
Flower arrangements and plants employed during the Lunar New Year are often laden with decorative items that are significant and positive to the year ahead as well. Red envelopes (used to house money that is intended to dispel bad spirits), small strings of replica firecrackers (used to drive away evil spirits), tiny lanterns, Chinese knots, miniscule scrolls with lucky words, phrases or verses written on them and images of lucky fish are all auspicious additions to Lunar New Year floral displays.
Lunar New Year floral arrangements have the responsibility of adding to the owner's good luck for the new year and dispelling bad luck in the year ahead. Symbolic fruits, flowers, plants and decorative additions can all be employed during the Lunar New Year for both festive and decorative purposes.
You might also like...