Corsages and Buttonholes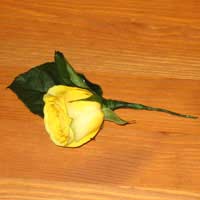 Weddings these days – literally anything goes. You are only ever limited by your imagination. Designs are so innovative and dazzling and thanks to a wide range of accessories now available the world is literally your oyster. What have remained stable though are the traditional adornments – buttonholes and corsages. Grooms and guests can still be seen wearing buttonholes – even though the designs may have moved on! While a beautiful, dainty handcrafted corsage is still very much in evidence with mother of the bride or groom.
Buttonholes
Buttonhole - usually one large flower with a small amount of foliage
Boutonniere – usually a bunch of small flowers grouped together
Buttonholes are not very difficult to make, but if you need to make dozens of them then you need to choose a flower which is hard wearing and can be made up the night before.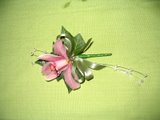 Carnations are ideal for this. The groom's buttonhole can be made up on the day and traditionally should be taken from the bride's bouquet to symbolise sharing.This is not obviously cast in stone but the groom's flower should generally echo what's in the bride's bouquet. It should be placed on the lapel of the groom's jacket. You can accessorise it with feathers, beads or wire and ribbon for added interest.

Creating a Buttonhole
MaterialsOne rose; foliage (rose leaves are ideal); wires; tape; pins (for attaching buttonhole to clothing)

Method

Lay out rose, foliage, wires, tape and pin.
Remove the rose's stem just beneath the seedbox and insert the wire (a 0.71mm) into the stem and into the seed box. You can insert two wires in a cross through the seed box to make it sturdier and prevent the rose from drooping
Loop these wires round twice and bind with floral tape
Take foliage (I used two rose leaves directly on top of each other to give stability to the buttonhole.) and delicately wire the rose leaves using silver wire ( a 0.32mm) making a small stitch either side of the main vein of the leaf and creating a loop
Secure the leaf stem by gently taking the wire end and wrapping it twice around the remaining wire. Tape the leaf stem securely
Place the taped leaf behind the rose and secure with green wire
Wire stems are cut to length then use tape to bring the buttonhole together ensuring that the cut ends are covered.

Corsage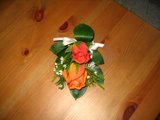 A corsage is traditionally worn by women for formal occasions such as weddings, balls etc. It can be a beautiful accessory which adds glamour and interest to any outfit. Although it is usually worn on the shoulder, it is actually very versatile and can also be attached to handbags, prayer books, wrists, belts or coat lapels. The design should be very lightweight and easy to attach. If it is to be worn on clothing then keep in mind the type of cloth it will be attached to. Some fabrics are very delicate and will droop or rip if the corsage is too heavy.Generally flowers used include: roses, orchids, gerberas, freesias, lilies, heathers and alstromeira and foliage is usually .ivy wax flowers, hebe, eucalyptus, hard/soft ruscus and bear grass.

MaterialsTwo roses; wax flower; hard ruscus; narrow satin ribbon; wires; tapes; pins to attach (magnets can be used)
Method
Lay out all you materials and then make a small bow
Insert wire through the seedbox of each rose - you can insert two wires in a cross through the seedbox to make the rose sturdier. Loop theses wires just twice before binding the wires and stems of each rose with floral tape
Take the foliage (I used hard ruscus) and wire and stitch each leaf (usually about nine). Bind all leaves.
Take the wax flower and cut off small sections. Wire each section and bind with tape
Tape together three of the foliage leaves to form the outline of the corsage. Without binding yet add one rose to these leaves directly in front of them. Add a leaf either side of this and add pieces of wax flower either side
Add the second rose. In front of the second rose add another piece of wax flower and place your satin bow beneath this before placing a leaf beneath facing outwards.
Bind everything together in one single stem .Cut stem to required length (should not be too long)