Using Floral Foam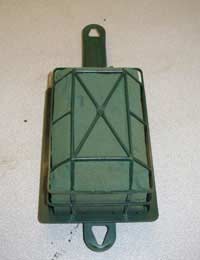 Floral foam is a florist's best friend. Although wiring stems and flower heads is still generally regarded as the best and most versatile way of creating a design – and the ability to do it well is certainly the sign of a good florist – floral foam does allow you the freedom do the most wonderful creations at a fraction of the time.
Certainly back in the 1960s if a florist wasn't wiring, they were generally arranging flowers in chicken wire, moss, wet sand or even clay! Thankfully times have changed!
These days you can buy foam in all sorts of shapes and sizes. From crosses to teddy bears and bouquet holders to hearts, there is now generally something to suit every occasion. More recently the trend is to use colour foam to enhance displays.
Generally foam is now fire retardant to meet with strict fire regulations. Certainly with a lot of today's designs using candles, this is invaluable. There are some types of floral foam that are now biodegradable too, an important feature in this day and age.
Types of Foam
Foam is either wet or dry and can be bought in bulk at a floral wholesaler, or singularly at florists and even some garden centres. It can be bought under many brand names and shaped to suit a variety of containers, and weighted to suit a variety of materials.
Wet foam is the one you'd be most familiar with. It's green and used for fresh flowers and foliage. Dry foam is the brown gritty one which is used for dried flower designs.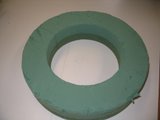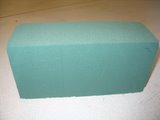 Generally, the best known shapes for both types of foam are bricks and cylinders. These are incredibly versatile as they can be cut to any size and to fit the majority of containers.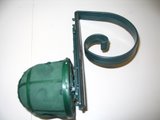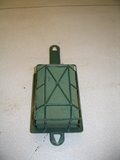 You can also buy foam filled trays and holders. These vary in quality and price – the more expensive ones are set in moulded plastic frames, while cheaper versions are glued on - and are ready prepared for such designs as a bouquet, pew end, sympathy tributes or swags.


Using Wet Floral Foam
Always ensure that your floral foam is in excellent condition and clean – you can not use wet floral foam which has already been used because it won't be able to hold the material again – you will be putting stems into holes that have already been created and are filled with air.
Fill a bucket or bowl with fresh clean water and drop the foam in. Never run it under a tap as this will only saturate the outside of the foam, leaving dry areas on the inside
The foam should only just be covered by the water – do not push it under or submerge it. To soak it fully should generally only take about 20 – 30 seconds, if it is too wet, it will break up
Remove the foam and allow it to drain
If you are using a block of foam, cut it to size and round off any edges
If you are placing the foam into a container, always ensure that it is around an inch higher than the containers rim to allow material to flow down along the sides of the arrangement. If it is level with the rim the material can only point upwards!
You can secure the foam to the base of a container by placing it on a frog (a plastic pin holder which is held in place with florists' fix (a type of adhesive putty)
For extra security you can anchor the foam onto the container by taping it.
There are going to be many occasions when completely soaking the foam before using it won't be appropriate. This is particularly true when using a foam bouquet holder – it would be too heavy and drip everywhere including down the bride's dress. And it would also apply if the design is hanging i.e. bridesmaid pomander; floral ball to be hung from marquee ceilings or a wall display. On these occasions misting the foam with water, so that it is wet but not soaking, is ideal.
You might also like...
Hi im making wreaths and centre pieces using wet foam...my problem is that the foam still drips when I've done my arrangement...is it best to leave the oasis to drain overnight or am I soaking it too long please?
Laura Boldry
- 8-Dec-20 @ 5:56 PM
I want you make funeral wreaths but with artifical flowers , what is the best type of oasis to buy for this. Thank you .
Jersey girl
- 6-Jan-17 @ 10:43 AM
I am trying to obtain precise informationabout biodegradable flower foam. It is mentioned here but no further details given. Can anyone tell me where to obtain it please and what it is called?
Flower mad
- 8-Feb-13 @ 11:13 PM