Floral Skills: Wiring and Taping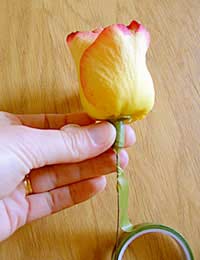 Wiring and taping are skills which are essential when carrying out floristry work. If you know how to wire and tape well this gives you the knowledge to support and control different types of plant material. In turn this will allow you to create successful and individual designs.
Be under no illusion though wiring and taping are both time consuming and incredibly fiddly but they are worth learning how to do and how to do properly. You can create so much more and thanks to taping the wires are discreet and allow the design to look natural.
Wiring
Wiring is used to control, support, anchor and lengthen stems. These wires range from very fine gauges (size of wire) to much thicker and are generally available, from a florists' wholesaler, in a variety of coatings, although green and silver are the most commonly used. The lightest gauge possible should be always be used to stop the design from becoming heavy and too rigid. There are numerous methods on how to wire depending on the type of material you use.
Support Wiring
This strengthens the stem or creates a false stem and is usually used on wedding work such as bouquets, buttonholes and corsages. There are three methods of support wiring:
Internal: used to support hollow fleshy stems by inserting the wire up into the stem until it is in the calyx.
Semi-internal: support wiring the top part of the flower internally and the lower half externally. Very common for gerberas or tulips.
External: the wire is inserted into the calyx then brought down and wrapped gently around the stem.
Stitching
This is used to support individual leaves and does exactly what it says! A length of fine wire is stitched through the front of the leaf about two thirds of the way up then brought down to form a loop. The ends are then twisted together around the stem of the leaf to create a false stem.
Mounting
This is the method used to attach a wire to the base of a stem either to place it into foam or create a false stem for wired work. A mount wire is generally heavier than a support wire and the gauge you use depends on how heavy the plant material is.
Single leg mount: One end of the wire used should be longer than the other which is twisted around the stem. This allows material to be pushed through foam or a moss base and then returned back into the base to secure it. It is also used to create a false stem.
Double leg mount: Both ends of the wire should be equal once they have been wrapped around the stem. Used for extra anchorage and support.
Taping
Tape is used to cover the wires and generally comes in green, brown or white. It is a special type of tape which adheres to the wire and is only available from a florists' wholesaler. As well as sealing the stem tapes can also hold in moisture which allows the plant material to stay fresh for longer.
How to Tape
Once all your materials are wired hold the material to be taped between your thumb and forefinger. Starting at the top gently start wrapping the tape down the wire, turning the item as you go. Stretch the tape as you bind down and carry on until the whole wire is covered. Twist the tape at the end to seal before cutting off.
Taping allows you to bring together several pieces of material together in what are called units.
Branching unit: single flowers of leaves are wired then brought together to form a natural looking stem of material. This is ideal of corsages or to create longer lengths of foliage for wedding bouquets.
Ribbed unit: this is perfect for when you use hyacinth pips or other very small headed flowers. All the flowers or pips are individually wired then taped together in a line to create a longer length of clustered flowers.
Natural unit; the material is left on the natural stem then brought together in little bunched with one taped stem.
You might also like...
NAME 3 TYPES OF SUPPORT WIRE
PIE
- 29-Apr-15 @ 3:22 PM
name 3 types of supporting wire .also what wrap quantity of long stemmed roses would a florist need to buy to ensure they have 30 for a order
pie
- 29-Apr-15 @ 3:20 PM