How to Dry Fresh Flowers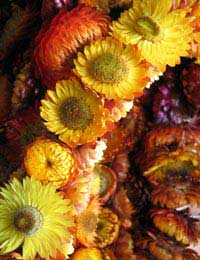 Floristry enthusiasts use dried flowers for a variety of purposes, including to fill out a fresh flower arrangement, bulk up a shadow box, as decorative gifts, as special inclusions to gift wrap, on wreaths and on plaques. Aside from their long life, dried flowers are also appealing for many different uses because they are easy to procure - most fresh flowers can be dried at home. There are three main methods of drying fresh flowers, including air drying, using a silica gel and microwaving. Regardless of the method you would like to use, remember to pick blooms at the height of their growth and gently blot the flowers so that excess moisture is removed.
Air Drying Fresh Flowers
Air drying is the most traditional, and easiest, method of drying fresh flowers. There is no special equipment required of this method, and little work for the individual involved. To air dry fresh flower simply gather together a small bouquet of blooms and hang upside down in a cool, dry, dark place with proper ventilation and air circulation. Most bouquets left in this position will dry within the month and will be dry to the touch when they are ready. The flowers can then be lightly sprayed with ordinary hairspray to help keep their shape. Air dried flowers will be an excellent decoration for approximately one year.
Drying Fresh Flowers with Silica Gel
Those who foresee drying a large number of fresh flowers might want to investigate the use of silica gel in the drying process. Sourcing and investing in the gel will require some time and money, but asking at a local florist should net the name of a good silica salesman in the area. When procured, simply layer 5 - 7 centimetres of silica on the bottom of a plastic or glass container. Gently lay the flower in the silica (flat flowers can be laid face down, "domed" flowers such as roses should be laid face up) and then cover the entire flower with silica including the spaces in between petals. Do not allow petals to touch. Check the flowers daily as it could take between two and seven days for the drying to be complete. When the flower is dry to the touch, remove carefully and gently brush away any remaining silica granules with a soft make-up or painting brush.
Drying Fresh Flowers in a Microwave
As all microwave ovens vary, individuals interested in drying fresh flowers in this way should be prepared to experiment to find out what works best for them. For the easiest method of microwaving fresh flowers, simply wrap the flowers in paper towels and set your timer for one minute. Check the status, and repeat for one or two more minutes as needed. Most flowers don't require more than three minutes of heat in order to dry properly. If you are drying flat flowers, you could consider putting a plate on top of them in order to keep them flat while drying.
Drying fresh flowers can be a fun, easy and cheap pastime for those who would like to enjoy their gardens all year round. Experimentation is key when drying fresh flowers - once you find out which method you prefer and how that method works in your own home you'll soon be on you way to enjoying beautiful bouquets the whole year through.
You might also like...
@Ol illite - it really depends upon the type of flowers. It takes a bit of experimentation to get this process right, so you may want to try one of the more traditional methods if you don't want any mistakes.
Sal
- 19-Nov-14 @ 12:25 PM
Two basket arrangements for my birthday from friends of fresh flowers I would like to dry to keep as it's my 76th how long after I have got them should I dry microwave them? Many thanks Ollie
Ol illite
- 18-Nov-14 @ 4:11 PM