Qualifications Needed to be a Florist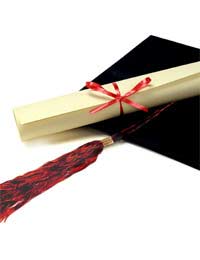 Becoming a professional florist is not as easy as opening a shop and arranging a few bouquets. In the United Kingdom there are both practical certificates that pertain to floristry and programmes available for studying horticulture, agriculture and floristry at a higher education level.
But regardless of which route you take towards becoming a florist, on the job training will remain a large part of what develops your skills and expertise.
On the Job Training
Most florists operate smaller shops, so finding employment or even an apprenticeship with a florist can be tough. However, don't let the lack of paid opportunities deter you if you really do want to gain experience and prove your passion for floristry.
Joining a local flower arranging course, networking at flower and garden shows, looking for related work in agricultural or landscaping fields and/or volunteering with a local florist may all get you the experience you desire to move forward towards becoming a professional florist.
For those who do find apprenticeships, these typically last for two to three years and include completion of the NVQ2/NVQ3 floristry skills in addition to key skills and the technical certificate.
Qualifications in Floristry
Both full and part time courses exist for those interested in gaining a practical qualification in floristry. NPTC, BTEC and City & Guilds all offer a variety of certificates, diplomas and awards related to floristry.
Studying for these qualifications at a relevant college are probably the main way in which florists gain their qualifications in the United Kingdom. For more information about floristry qualifications and programmes, contact the Society of Floristry .
Floristry Study & Higher Education
There are some courses of study at universities in the UK that lend themselves to floristry. Generally these courses lead to a BA degree. Floristry Design, Floral Design, Garden Design and Horticulture are all degrees that are related to professional floristry. For more information about floristry and universities, visit UCAS.
Professional Membership for UK Florists
Professional florists in the United Kingdom are usually members of the Society of Floristry. The Society offers certificates for florists to prove and improve their skills. The Intermediate Certificate of the Society of Floristry tests a florist's knowledge of theory and practice in floristry and the floral industry, and those who successfully complete this certificate can move towards the National Diploma of the Society of Floristry. This diploma is the highest award in floristry in the UK.
If you have a passion for flowers and floristry, you may want to explore how you can turn your hobby into a satisfying career. Joining some interest-only flower classes or workshops is a great way to explore more about floristry while at the same time gaining experience that will help prove your desire to work in the field.
There are a variety of qualifications for florists in the UK so there should be out there to suit everyone. Once you are a qualified florist, joining and progressing through the Society of Floristry will help you continue to develop your skills and network of professional contacts in the UK.
You might also like...
Hello I am an educated florist from Sweden i gone to college there for three years i wonder what course and skills i need in Uk to get a full time job as a florist. Where I find a course in flower arangements and making of boquettes with flowers and teqniques in binding flowers. Kind regards Sandra Lodin
sandra
- 10-Jan-14 @ 5:31 PM