Floral Table Decorations for a Festive Look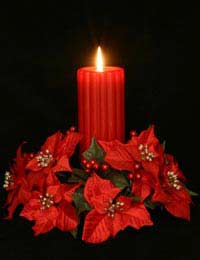 During the festive season there is enough to do without worrying about extravagant and labour-intensive table settings. Between the shopping and the cooking and the cleaning, no one wants to make side-trips to the florist or the nursery and devote their precious time to careful considerations about what can be squeezed in between the brussel sprouts and bread rolls. Instead, use these handy hints for creating holiday table settings that won't leave you broke, or pressed for time.
Christmas Cheer
Christmas colours are generally accepted to be red and green, sometimes with gold added in, and florists generally have an abundance of ready made centrepieces ready for holiday tables at this time of year. A good florist will be able to show you a number of displays based on general information, sometimes as easy as describing whether you need "small" "medium" or "large" bundles, and should also be able to help you brainstorm less traditional ideas if you are truly pressed for space. Springs of mistletoe and holly berries, garlands to adorn a buffet table, poinsettias, miniature "fir" trees and even deep red roses with a plethora of green leaves can all help liven up a Christmas table without having to get rid of tasty treats to make room.
Happy Hanukkah
The colours of Hanukkah are traditionally accepted to be blue and silver, and most major retailers and florists will have displays in these hues ready and waiting for eager customers. In fact, the range of blue and purple flowers itself is fairly large, and there are always white flowers to stand in for silver, so creating centrepieces and bouquets to fit this scheme shouldn't be a problem. The way in which flowers are presented can also alter the mood of the table. White roses tied with rich, midnight blue ribbon are glamorous, whereas bluebells drooping sleepily from small vases add a more informal touch. A spray of flowers to put in front or behind the Hanukkiyah might also be a nice touch, and small dreidels made out of flowers may also be available from more dextrous florists.
Winter Wonderland
Families celebrating both Christmas and Hanukkah, or perhaps neither religious holiday, may still want a festive table set during the season. A winter wonderland theme, complete with white flowers to symbolise snowflakes, silver and gold glitter, heapings of frosted pine cones and perhaps even pine needles strewn about, is a decorative way to welcome the secular winter season. Small seasonal plants may too help to bring the outside in, and garlands festooned with bows to hang on the back of each chair, across a bar, or wound down a nearby handrail can also create a festive wood in the winter. Finally, whether or not guests celebrate a particular holiday, attaching springs of mistletoe to a chandelier or the doorway of the dining room will give everyone ample time to make use of this tradition - if they so choose.
Creating a holiday table setting may depend upon whether religious holidays are being celebrated or if the theme is a secular winter celebration. Regardless, a plethora of natural winter flowers and plants will help make things look fun and festive without costing a lot or taking up too much room. You'll want to leave room for the treats, remember!
You might also like...
Hello! I'd like to make a Christmas centerpiece using a tall lantern, then adding fresh flowers to the top of it--roses and more.They won't last out of a water source.Do I need oasis? If so, how would I enclose it then attach it to the lantern? Any ideas? Many thanks!
Susan Pattee
- 6-Dec-16 @ 6:01 AM