Rustic Winter Arrangements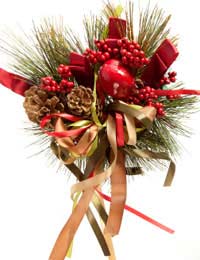 Winter is not a season associated with fresh flowers and bursting blooms, but there are still many possibilities for creating arrangements which show off the beauty of this time of year. By bringing in elements from the countryside you should be able to mix in muted flowers to create rustic masterpieces. Some arrangements can even be made without flowers to take advantage of only local, seasonal offerings. Utilizing heavier, more solid containers will offset your earthy displays wonderfully.
Incorporating Natural Elements
With few flowers cropping up during the winter months seasonal arrangements can instead focus on the other organic offerings to fill out a centrepiece or bouquet. Natural elements bring an understated elegance to these displays and lend themselves to a quieter colour scheme. Common additions to winter arrangements include:
Berries, though be sure to warn others if they are poisonous.
Pine cones and miniature pine cones which can be spray painted as desired.
Short, thick, clean logs useful for creating horizontal centrepieces.
Branches and sticks useful for adding height and texture for visual interest.
Leaves and needles.
Greenery including holly and mistletoe.
Fruit such as apples, pears and oranges, as well as pumpkins or gourds.
Selecting Muted Flowers
Rustic winter arrangements generally stick to a natural colour palette. Not only does this mean abstaining from flowers of unnatural colours, but those of shades not found growing in nature at that time of year. Whites, browns, greens and dark reds are particularly appropriate for flowers in these displays. Amaryllis, roses, tulips, camellias, orchids, carnations, snowdrops and poinsettias are all popular in winter floral arrangements. Baby's breath, eucalyptus leaves, evergreen branches, thistles and winter heather are often included as well.
Winter Arrangements Without Flowers
Adding flowers to a winter arrangement can greatly increase the cost of it since fresh flowers usually have to be imported or nurtured in man-made greenhouses. To create displays that are both affordable and seasonal you can always leave the flowers out all together. You might like:
A bouquet of tree branches of different lengths.
A garland offset by velvet ribbons or bows.
A pompander accented with berries of different colours.
A wreath of greenery embellished with pine cones and/or berries.
Topiaries of round Christmas ornaments accented with greenery.
Small potted trees studded with miniature pinecones.
Creative uses of pressed leaves and/or dried flowers.
Using Heavy Containers
Winter is a season which conjures up images of heavier materials, fabrics and textures to keep out the cold. Carry this feeling over into your arrangements by using strong, solid vases and other containers. Brass and bronze are wonderful colours and materials for pots, urns and buckets while stone containers lend a distinct weight as well. Glass vases, jars and pitchers, while not particularly heavy, are reminiscent of country life and therefore appropriate. Actually bringing natural materials into containers, such as by using wicker baskets or wrapping birch bark around vases, is yet another idea for completing a rustic winter arrangement.
Winter arrangements can be beautifully understated when they take their lead from the materials found in nature during the season. Incorporating natural elements, choosing flowers in muted colours, dispensing with flowers altogether and creating displays of other materials, and using containers made of heavier materials will help create elegant rustic winter displays.
You might also like...