Working With Berries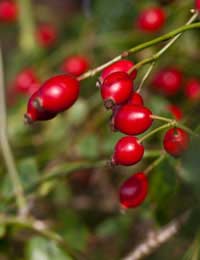 Berries are a great filler for flower bouquets and arrangements, not to mention they are an easy way to add colour and texture too. Working with berries requires knowledge of the most common types used in floristry and how best to preserve and present them in displays. Some berries can be hazardous to humans and animals, so communicating warnings to those who choose to feature berries in their homes is important as well.
Common Berries Used In Arrangements
There are a number of berries commonly used in floral displays and the variety of natural shades means that you should be able to find a type to work with just about any arrangement. Some of these may even grow in your back garden or local environment, which means you can plump up bouquets with rich shades for very little extra money. Berries which often become part of floral arrangements include:
Brunia (pewter/silver/grey)
Beautyberry/Early Amethyst (purple)
Berzelia Berry/Bauble (large, purple, white,
China Berry (light yellow, often spotted with brown)
Cotoneaster Berry (red)
Hypericum/St. John's Wort (red, pink, green, orange, burgundy, brown)
Juniper Berry (green, dark purple)
Mistletoe (red, white)
Pepperberry (red, burgundy/purple)
Privet Berry (purple)
Rose Hips (red, orange, purple)
Seeded Eucalyptus (green)
Snowberry (cream, white)
Viburnum Berries (red)
Waxberry (red, burgundy)
Winterberry (green, red)
Preserving Berries For Display
As fruit, berries have natural life-cycles which include a period of rotting. Obviously you do not want berries to go bad while they are in your arrangements, so taking steps to preserve berries for display is a good idea. Carefully detach berries from stems as needed and discard berries which have bruises, cuts or soft spots. Clean each berry individually using water and a soft cloth. Apply petroleum jelly to each berry and buff with a cloth. Alternatively, coat berries with an acrylic floor wax or acrylic craft spray. If needed for your design scheme you can also spray-paint berries different colours, or spray on glitter or artificial snow. When displayed, check berries periodically and remove those which show signs of rotting such as dark or soft spots, an odour or attracting flies or other insects. If berries are left on branches it is very easy to simply remove them as desired and re-insert fresh stems.
Warnings About Berries
Berries are both beautiful and useful in floral arrangements, but they can be dangerous as well. Several of the most commonly used berries are toxic to humans and/or animals, which means that keeping them out of reach of infants, children and pets is imperative. While telling people that berries are toxic is a good idea, a better idea might be to put your warning in writing. Attach a small gift card to an arrangement stating the type of berries it features, that they are toxic to humans and/or animals and to avoid ingestion. If you prefer to give more information, print out a fact sheet to attach to the display which lists the side effects of ingesting the berries and that they could present a risk of death if eaten.
Berries are used by florists the world over to fill out bouquets, add colour and texture to arrangements and lend an air of seasonality to displays. Understanding the most common berries used in arrangements, how to preserve berries used for display and the best ways to communicate warnings about berries which are toxic to humans and animals are all important for florists interested in working with these items.
You might also like...
Help, please! I am getting married mid november, and want to use privet berries in my arrangements. But, i see the tree has flowers during that time. Can n pick the berries so long, and dry or preserve them in some way that wont change the look too drastically? Will drying them make them too brittle for use?
Belinda
- 19-Apr-16 @ 10:06 AM