A Rose Garden Flower Arrangement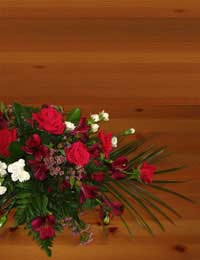 Roses are probably the most popular flower. Beautiful on their own or in bunches; this flower is one of the most multi-faceted evoking feelings ranging from passion to serenity and warmth to joy.
Even the names are wonderful – Bianca, Jacaranda, Blue Moon, Grand Prix, starry Night and Newport Fairy to name but a few. And just to add to the confusion there are also varying types including:
Hybrid teas – these are the type you see in a florists' shop with a single stem and large head. Perfect for arrangements
Floribundas – small flowers in clusters
Grandifloras – combination of hybrid tea and floribundas, so large and small flowers on the same stem
Miniatures – tiny clusters of roses usually found as a bush
Climbing roses – usually larger flowers which can grow up to 20 feet!
Old garden roses – these can grow to huge heights and come in a wide variety of flower shape and size. Some can grow as high as 50ft.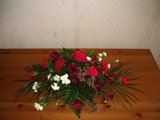 Not so very long ago the rose was regarded as a luxurious flower. Certain types were only available at certain times of the year; scented varieties were hard to come by. This naturally pushed up the price and arrangements using roses were the exception rather than the rule.However thanks to the worldwide export market dozens of varieties of roses, in every imaginable colour are available all year round. Naturally some are still very expensive because they take time and effort to grow, but in the main they are now easy to come by and we can all enjoy that little bit of luxury at an affordable cost.

They are also a very hardy flower to use in arrangements and provided they are conditioned properly they can last quite a while.
How to Create a Rose Garden Arrangement
This all round arrangement is perfect to place on a table for a special celebration. It is equally at home in weddings, anniversaries or birthdays. And because it is easily portable makes a lovely gift to take away as a special reminder of what is probably a fabulous day!You do need quite a bit of plant material for this type of design. If you make it loosely and bulk out with foliage, then this will be ideal as generally it's the flowers that cost the most.
Materials
Plastic tray; floral foam; Flora bond; frog (these four items are available from a florists' wholesaler; seven roses (hybrid variety is best); two bunches spray carnations; two bunches of alstromeria; leatherleaf; palm leaf; wax flower; eucalyptus; soft ruscus.
Method
Lay out materials remove any unnecessary leaves and all thorns on the roses
Florabond frog onto plastic tray. Cut floral foam to size if necessary then dampen and place it onto the frog before rounding off the edges at the top. For added securing use pot tape to secure it into place by placing two pieces criss cross over the foam,
Place a piece of palm leaf at either end of foam. The length of this will dictate the length of your design
Place leather leaf around the sides of the foam keeping the shape – it should resemble a diamond shape at the base
Place a rose in the centre at the height you require then graduate the other roses through from one end to the other of the foam.
Take carnations through from top to bottom diagonally then repeat on the other side with the alstromeria. At this stage you should have lines of flowers graduating through the design
To finish off add a line of waxflower through the arrangement before filing in any gaps with eucalyptus and ruscus. At all times keep in mind the diamond shape.
You might also like...