Any Ideas for a Climate Change Floral Arrangement?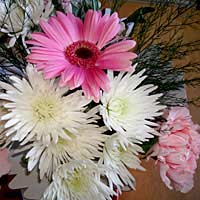 Q.
I am entering Young Farmers' competition in flower arranging. The theme is climate change. We are to prepare:
A basket to present to guest speaker at a climate change dinner
A table centre piece for a climate change dinner
A lady's corsage for a climate change dinner

My question is what colours would be best to use, as all three pieces are to be displayed together?

(J.N, 5 May 2009)

A.

When three separate flower arrangements are to be displayed together you have several options for creating a harmonious presentation.

You can utilise a complimentary colour scheme, as you have suggested, you can look at each piece as a separate aspect of an overall theme, or you can do both. In this instance it seems that using a complimentary colour scheme and keeping all three pieces within the overarching "climate change" theme will help you to achieve the best results (and hopefully the highest score!).

It might be best to begin your pieces by thinking about how you can address the climate change theme. One way in which florists can help the Earth is to use more local blooms so that their arrangements don't contribute to a large carbon footprint by having more exotic flowers shipped in.

For you this means that using local flowers and greenery will yield environmentally friendly pieces and exemplify the climate change theme. It may limit your options, but a little creativity will help you prove that fresh and local arrangements are every bit as worthy as those that incorporate more exotic elements.

If possible, either write a short introduction to your pieces or make sure to discuss your local choices so that the judges realise your intentions without your choices.

When it comes to colour, keeping your arrangements in the green spectrum could be a good play on being "green" and environmentally friendly. Obviously incorporating greenery, stems and leaves into your arrangements would be a great way to make this point.

If you do opt for more colour then stick to those found within nature (dying flowers isn't exactly environmentally friendly) and simply carry over the colour scheme among your pieces. Use the same flowers and similar colours throughout. For example, if you opt for white tulips and greenery in the corsage then make sure you have white tulips and greenery in the basket and centre piece as well.

Don't be afraid to play around until you find colours and items that work for all three pieces. It will likely take a little experimenting, but after reviewing your options you'll no doubt find inspiration that lead to unique arrangements and a winning place in the competition!

You might also like...