How to Use Limes In Table Centre Floral Arrangement?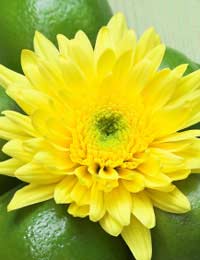 Q.
I want to use limes cut in half in my friend's wedding table centres and have seen it done before. However, I'm not sure what you would use to keep the cut edges of the limes looking fresh for the day though? I'm worried if I don't seal them they will look all dry and crisp within a few hours!! Any ideas please?
(C.D, 24 March 2009)

A.
Using limes in centrepieces makes for a fun, modern look that many brides adore. Very often whole limes are used because they are easier to keep looking fresh. Simply chill the limes until an hour or so before the party starts, then rub them to a high shine and arrange. The best limes for display are those with a vibrant coloured skin without any decay. Don't worry about the firmness of the limes as you won't be eating them, simply select them based on beauty alone.
However, if you would prefer to use cut limes in a centrepiece then there are several things that you can do to help the cut limes remain as fresh as possible for as long as possible. To begin with, keep the limes chilled in a refrigerator with a wet cloth over the top of them until the last minute. Then, cut them as cleanly as possible (taking care not to squash or tear any membranes) with a sharp knife. Use a steak knife or ceramic knife if possible. If you must cut the limes ahead of time then store the cut pieces back in the refrigerator wrapped tightly in cling film until you need to use them.
When it comes time to display the cut limes, look for ways to keep them cool in the centrepieces. If possible, make ice a part of the centrepiece by artistically nestling cut limes into cubes or shavings. If you prefer for ice to remain unseen, then utilising a container with a covered bottom can be helpful as you can add ice when needed as well as stack the cut limes for display. As the ice melts it will leave the stacked, cut limes in a pool of cold water to help keep them fresher for longer as well. Another option for keeping cut limes fresh in a centrepiece is to moisten the limes as needed with lime juice or water. A spray of either will help cut limes remain looking juicy and appealing rather than dry and crisp.
Using fresh cut limes in a centrepiece will require some planning and attention throughout the event, but the result should be beautiful - so much so that you might need to remind the guests to admire the limes, not use them in their drinks!
You might also like...