A Floral Bereavement Wreath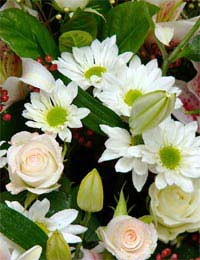 Sympathy tributes are a way of paying your last respects to someone who has died. For the person is who is giving it, it is a sign of support and for the family who may be receiving it, a sympathy tribute is part of the grieving process. For them it is a comfort and shows that the person who died was loved and highly thought of.
On such a sad occasion, a beautifully made sympathy tribute can make someone smile, so it really is important to get it right. The flowers used should be good quality and the design should be very well made and secure to withstand an unusual amount of handling.A loose wreath is one of the most popular designs for a funeral. It is generally round and opens in the middle. The tradition dates back more than 2000 years when floral tributes were given as a sign of respect at someone's passing. Its shape denotes the circle of life and continuity and it has therefore become a much loved arrangement for both religious and humanist funerals.
On the other end of the scale, a loose wreath is also known as a "bin wreath!" Every florist has a bucket full of flower heads that have broken off during conditioning, as well as bits and pieces of foliage. Instead of throwing them out and wasting perfectly good material, they are often used to create a loose wreath. This type of wreath is, as its name suggests, very "loose" in construction. The flowers aren't tightly packed together and the overall effect is more natural.
How to Create a loose Wreath Sympathy Tribute
You really can use any flower with a suitable sturdy stem to create a loose wreath. If the deceased had a particular favourite flower or a favourite colour it's a lovely idea to incorporate this into the design. And although this particular wreath is only a simple tribute you can also personalise them to the deceased by perhaps adding to the design, something that he or she may have had a particular fondness' for such as a colourful artificial butterfly, beautiful bow, beads or small decorative hearts.
It's also nice idea and adds depth to the arrangement if you curl some larger leaf foliage to place throughout the wreath. You can do this by curling them to the required size then stapling the curl together leaving the stalk exposed to place in the foam. If the stalk isn't long enough simply wire and tape the end and hook the wire into the foam. The list on how you can add extra interest to a loose wreath really is endless but the effect it has really is special.
Materials

Circular floral foam ring
Five carnations
Bunch spray carnation
Leather leaf
Gypsophilia
Soft ruscus

Method

Lay out all your materials and clean and cut to size
Round off the edge of the floral foam and briefly soak. Do not over soak as this could lead to the arrangement dripping everywhere
Insert the leather leaf at a downward angle starting at the base on the outside and then on the inside
Place the carnations in and these should have the longest stems
Space them equally around the base
Add in the spray carnations between the carnations
Add the gypsophilia and ruscus equally between spray carnations and carnations. Check there are no gaps from any angle as not only will this tribute be looked at from above but also from the sides. If there are any gaps, fill in with foliage.

You might also like...