Seasonal Flowers in the UK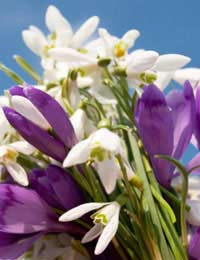 Many florists enjoy creating arrangements out of whatever flowers they choose at whatever time of year they choose. This method does provide almost unlimited sources of inspiration but using out of season flowers can cause the price of arrangement to soar as sourcing these flowers from greenhouses or other parts of the world becomes expensive, not to mention transporting the flowers can actually damage the environment.
Using locally sourced, seasonal flowers is a great way to keep arrangements fresh, interesting, moderately priced and as environmentally friendly as possible. There are more seasonal options in the spring and summer than the fall and winter in the United Kingdom, but there are many options no matter what the season for creating bouquets and arrangements.
Seasonal Flowers: Winter
The number of flowers which grow in the UK in the winter are not nearly as numerous as the options in other seasons, but those that are available can make striking arrangements. Depending upon your location in the UK you may be able to coax blooms of carnations, camellias, chrysanthemums, freesia, forsythia, gypsophilia iris, lilies, roses, snowdrops and winter jasmine to make an appearance in the winter. Heathers, holly, and pussy willows are also sturdy options for winter arrangements. Combining these blossoms with deep, dark greenery can be striking, particularly when red seasonal berries are used as well to give tie in to a Christmas colour scheme. Using accessories such as vases or ribbon in a red, green and gold colour scheme can put the finishing touches to some holiday arrangements, while blue and silver accessories can round out others.
Seasonal Flowers: Spring
Spring sees the re-emergence of any number of plants and flowers in the UK. Amaryllis, apple blossoms, azaleas, bluebells, camellias, carnations, cherry blossoms, clematis, crocuses, chrysanthemums, daffodils, daisies, freesia, honeysuckle, jasmine, lilac, orchids, tulips and wax flowers are but a few of the spring flower options available in areas of the UK. Many of these blooms look delicate and offer a pale, pastel colour palette. Spring flowers can also give up distinct aromas, so arrangements must take into account not only how different options will look together but if the overall scent of the arrangement will be harmonious. Simple arrangements in minimalist vessels with clean lines and unobtrusive colours often work well in the spring.
Seasonal Flowers: Summer
Summer plants and flower options are almost as plentiful as spring flower options in the UK, and in fact many overlap between the two seasons. Aster, azalea, carnations, chrysanthemums, daisies, dahlia, delphinium, freesia, gardenia, gerbera, gladioli, larkspur, lilac, marigold, orchid, peonies, roses, sunflowers, sweet pea and sweet william are just a few of the flowers found in bloom across the UK in the summer. Many summer flowers are known for bright, bold colours which work well to create strong, striking arrangements. Wildflowers are also plentiful in the summer and can be used to create eye-catching arrangements which look very relaxed and informal.
Seasonal Flowers: Autumn
Autumn sees a return to a more limited options of seasonal flowers in the UK, though many summer flowers will still be in bloom for at least part of the season. Carnations, chrysanthemum, freesia, forsythia, iris, lilies, roses, snowdrops and winter jasmine are all popular flowers in the autumn. As autumn is a season known for harvesting and a blaze of natural seasonal colours, rounding out arrangements with gourds, nuts, leaves and even wood always remains a possibility. Using pumpkins instead of vases can also be a seasonal twist for autumn arrangements.
There are a variety options for seasonal flowers in the UK no matter what the time of year. Spring and summer may offer more seasonal flowers, but autumn and winter provide a multitude of other natural arrangement options as well.
You might also like...