Arrangements for Halloween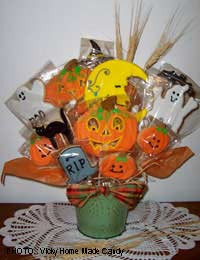 Halloween is a holiday enjoyed by kids of all ages and many people decorate more for Halloween than they do for any other day of the year. As the weather turns cooler, indoor decorations become more important and nothing is more festive than Halloween floral arrangements greeting guests when they step inside. Have fun with these displays by sticking to traditional Halloween themes featuring orange and black, incorporating candy and including whimsical accents to make others smile.
Feature Orange and Black
Orange and black has long been the colour combination associated with Halloween, though white, red and yellow also work very well in such flower arrangements. With some many options creating displays of different sizes and shapes should be no problem. Remember, however, that while colours which don't naturally occur in nature (black roses, navy carnations, etc) are unusual, they can often look cheap and make an otherwise lovely arrangement slightly tacky. Use these items sparingly. Instead, consider working with:
Orange, peach, white, cream, yellow or deep red roses
White, cream, yellow, orange, red, brown Gerbera daisies or mini Gerberas
Bronze, red, yellow or white chrysanthemums
Orange, yellow, red, white or even purple alstroemeria (Peruvian Lily)
Yellow, red or white carnations
Sunflowers
Daisies
Branches, sticks, willow, bark or autumn leaves
Eucalyptus leaves
Thistle
Miniature pumpkins and gourds
Raffia, string, yarn or ribbon
Incorporate Candy
There's no way to separate Halloween from candy and trick or treating, so work with this connection rather than against it. Incorporate candy into your arrangements to draw in more colours, add textural elements, evoke nostalgic memories and as a functional way to display holiday treats. Just be sure to make it clear if items can be consumed directly from the display (most likely wrapped candy) or if they are simply decorative and should not be ingested (most likely unwrapped candy). If you choose to work with candy you could:
Hang wrapped candies from the bare branches of a small tree
Insert wrapped candies into arrangements via short plastic floral sticks
Make a hard candy or candy bar topiary
Fashion candy pomanders
Fill a vase with colourful candies to surround a floral bouquet
Arrange pre-filled candy bags as part of a Halloween tablescape
Create a lollipop bouquet
Glue gum balls or other round candy into flower shapes
Put together a wreath of wrapped candy bars
Stand full sized candy bars and boxed candy vertically to make an arrangements
Include Whimsical Accents
Halloween has such a variety of whimsical items associated with it that finding small decorative items to add to a bouquet should not be hard. Witches, witches hats, broomsticks, black cats, black crows, spiders, spider webs, jack o'lanterns, pumpkins, bats, gravestones, skeletons, skulls, coffins and haunted houses are just a few of the decorations commonly associated with this holiday. From small plastic figures and paper cut-outs inserted into bouquets to accompanying balloons or vases, there is much you can do to incorporate whimsical accents into your displays. If you're really ambitious you could even create an large arrangement in the shape of one of these items.
Creating Halloween arrangements is the perfect opportunity to let your creative side run wild. Feature a traditional orange and black colour scheme, incorporate candy into your displays and include whimsical accents to really get into the festive spirit.
You might also like...