An Autumn Flower Arrangement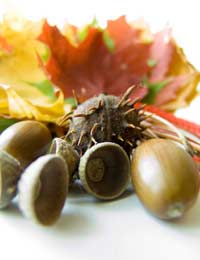 Autumn bouquets are usually known for the rich colour of seasonal flowers as well as the incorporation of other natural elements such as fruits, vegetables, leaves, acorns, nuts, seeds, bark and twigs.
These natural elements are significant of the bounty of the season and for those who dabble in floristry, autumn provides an abundance of inspiring items. If you're trying to incorporate all things natural into your autumn flower arrangements, look no further than your own back garden.
Fruits and Flower Arranging
Autumn fruits are those that are in season between September and November. These fruits tend to be hearty and rich which will naturally accent the flowers which are in bloom during these months. Rich, red apples, deep blackberries, navy blueberries and dark, fresh figs are just a few of the fruits that can help complement harvest hued flowers.
Fruits with tough rinds such as oranges and tangerines can also be used to complement autumn flowers that work as a mixture of red, orange, green and gold shades. However, those who use fruit in flower arrangements should check the pieces each time they water flowers to avoid decomposing fruits and the odours and other by-products that come with them.
Vegetables and Flower Arranging
Autumn vegetables are, again, those that are in season between September and November. Most of these vegetables come with firm skins such as gourds, squashes, pumpkins, aubergines, beetroots, carrots and courgettes. Again, these items tend to come in natural harvest colours such as shades of orange, green, red, gold and even purple.
If these items are large enough, such as with gourds and pumpkins, they may even be able to be hollowed out to use to contain a flower arrangement. Check on these items with every watering and discard those that are no longer fresh.
Leaves as Floral Accents
Drifting leaves are a hallmark of autumn and it takes little effort or imagination to work them into flower arrangements. Using leaves as floral accents can help fill out a bouquet of flowers or, if you are running short, can even be collected into small bouquets themselves.
Just remember to gather only leaves that are not torn nor have holes, and to wash the leaves gently to remove any dirt or debris. Brittle leaves can be a fire hazard, so be careful to keep them away from candles when on display.
Acorns, Nuts, Seeds and Autumn Flowers
Acorns, nuts and seeds are all small items that can be used around autumn flowers to help unify the theme. These items can fill in between flowers, be sprinkled gently throughout a bouquet or even fill glass containers to become part of the bouquet itself. When gathering acorns, nuts and seeds to use in floral arrangements, make sure to wash them all thoroughly and make it clear to everyone (especially children) that these items are not for eating.
Bark and Twigs as Floral Accents
Barks and twigs can be found in most gardens during autumn and they can also be great space fillers and floral accents in bouquets of autumn flowers. Little bundles of barks and twigs can even be organised into their own bouquets such as to hold place cards on a festive table. Again, make sure that any bark or twigs that is brought inside is washed free of dirt and debris, clear of bugs or pests, kept away from open flames and kept out of reach of children.
You might also like...