Autumn Tablescapes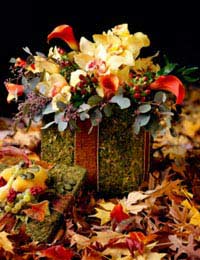 Tablescapes are often assumed to be the same thing as centrepieces but they are made up of more than just the main flower arrangements. These decorative designs include the entire space around the floral centrepiece, so that the rest of the table is decorated as well. Displaying full tablescapes in a shop or shop window is a smart idea for professional florists who hope to sell such displays in full or offer each element for sale individually.
Large arrangements, small arrangements, bud vases, candles, vessels filled with other decorative items and even piles or displays of thematic items are all common elements of tablescapes. Wonderful ideas for autumn tablescapes include back to school themes, foliage themes, Halloween themes and harvest themes.
Back to School Tablescapes
Early autumn always evokes back to school memories, so capitalise on this nostalgia with tablescape details reminiscent of schooldays. Large jars and clear vases work well as simple vessels in this theme, and unpretentious flowers like daisies, sunflowers and mixed wildflowers seem particularly appropriate. As you design your large and small arrangements, consider including:
Primary colour accents (red, green and blue)
Letters or words
Numbers
Pencils, pens, coloured pencils, crayons, markers
Rulers or other
Sheets of notebook or coloured paper
Student diary pages
Shiny red apples (real or fake)
Autumn Foliage Tablescapes
By mid-autumn the splendour of the natural world is apparent and creating a tablescape following the natural palette is a great idea. Not only can you catch people's eyes with the colours and textures, but you can celebrate your local environment as well. Utilize whichever flowers are in bloom in your area, and supplement them:
Red, orange, peach and yellow accents
Leaves and stems
Branches and sticks
Acorns and nuts
Wicker baskets or wreaths
Moss or shrubs
Stone pedestals and brass or gold urns
Halloween Tablescapes
Halloween is a holiday for which people of all ages enjoy decorating and hosting social activities, so creating tablescapes full of seasonal items is a great way to attract attention from many different areas. Gerbera daisies in bold colours are fun in Halloween arrangements, as are deep, dark roses for more adult affairs. Other interesting seasonal accessories include:
Black, white, orange, yellow and gold accents
Candy
Ghosts, witches, black cats, coffins, spiders, spider webs
Pumpkins and jack o'lanterns
Candles and candelabras
Skulls and skeletons
Masks
Harvest Tablescapes
The harvest season provides the perfect opportunity to create decorative displays full of rich colours, natural materials and elements which ignite all of the senses. Hardier, heavier flowers like chrysanthemums, mums and carnations are incredibly filling in larger arrangements and come in an array of colours to work with other elements. These flowers also mix well with:
Brown, red, orange, yellow and gold accents
Pumpkins, squashes, gourds
Apples and pears
Leaves, branches, bark and wheat
Votive and taper candles
Clove pomanders and cinnamon sticks
Velvet and textured fabrics
Brass pots, buckets and vases
Both amateur and professional florists can create eye-catching tablescapes which celebrate the autumn season. Drawing on in-season flowers, accents from the local environment and childhood favourites should help tug at the heartstrings of all who see them. Back to school, foliage, Halloween and harvest themes are perennial favourites for autumn tablescapes which are enjoyed by friends, relatives and customers alike.
You might also like...