Creating a Picture Portfolio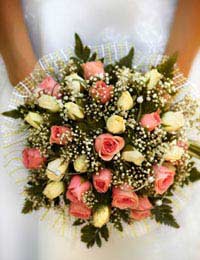 Florists need picture portfolios for a number of reasons. First and foremost, customers will want to see samples of a florist's work and keeping fresh arrangements on hand at all times is not usually an option. Next, a florist's website will want to advertise great work and pictures will need to accompany descriptions should an online retail section be set-up. Also, pictures help bring life to a business card or other professional literature and having a number of options is helpful. Creating a picture portfolio will take some planning as you will need to select the best arrangements for photographing, decide on the setting for the photographs and determine if you would like to engage a professional photographer or take the pictures yourself.
Selecting Arrangements to Photograph
You have a lot to think about when you select arrangements to photograph:
Is there a particular shape you think is important to capture?
What about colours or colour combinations?
Do you have an arrangement that shows particular depth or texture?
Have you made a new twist on an old classic?
Were you commissioned to create an arrangement you've never tried out before?
Do you offer several variations on the same theme?
What are your best-selling arrangements?
Are there particular types of flowers you work with that other florists do not?
Do you add anything to your arrangements (gifts, food, etc) that make them unique?
If you sell arrangements in particular vases, do you want those items featured as well?
Photographs can also be a great medium through which to advertise service providers with whom you have a good relationship, for example an artist who makes your greeting cards or a toy-maker whose wares you offer with baby bouquets. Just make sure you have permission before featuring the work of others in your photographs.
Deciding On Photograph Settings
The setting in which you photograph your flower arrangements is entirely up to you. Some florists simply show arrangements on the counter of their shops while others move arrangements to beaches, parks, forests, churches or reception halls. Probably the best rule of thumb is to look for either a striking setting (beach or forest), the setting in which the flowers are intended for display (church or reception hall) or the setting which will show off the arrangement to the best advantage (perhaps in front of your shop window). You may need permission to photograph on private land, and don't forget to give credit to the setting if you feature the photo somewhere, for example on your website or in your professional literature.
Engaging A Professional Photographer
Engaging a professional photographer may be the best way to get beautiful pictures of your floral arrangements but it can also be quite pricey. Aside from simply booking a professional, you might be able to hire a local photography student for a cut price or barter with photographers by allowing them to keep the arrangements they photograph (or something similar). Another option for amassing professional quality photos at a minimal price is to ask customers who are using your arrangements at events (weddings, receptions, retirement dinners, etc) to supply you with a photograph of at least one arrangement afterwards. You might also be able to make this same deal directly with the photographer at the event in exchange for an extra arrangement or cross-promotion in your shop.
Taking Photographs Yourself
Taking photographs yourself is one way to keep the costs down for your picture portfolio. If you decide to go this route, practice for several weeks and experiment with angles, depth, locations, times of day, different levels of light, types of focus and amounts of zoom. Remember too that once you take photos you can always crop them, enhance them and add digital effects like different tones or sharpness. You may find that you like photos from many different "shoots", so don't be afraid to mix and match the photographs you take at all different times.
Florists need physical picture portfolios to show customers in their shops as well as digital portfolios to advertise their talent and products on the Web. Selecting the best arrangements to photograph, deciding on settings for the photographs, engaging a professional photographer and taking your own photographs are all decisions florists will need to make in order to create the best picture portfolio possible.
You might also like...