Finding Floristry Jobs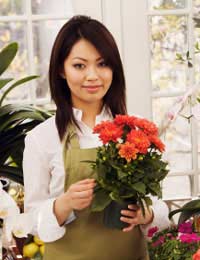 It has been estimated that there are over 6,000 floristry businesses in the United Kingdom, and almost 29,000 people employed in the floristry industry. Finding a job in floristry requires knowing where to look and what to do. Approaching floristry shops, finding floristry job advertisements, working as part of a network and advertising for new clients are all ways in which you can find a floristry job in the UK.
Approaching Floristry Shops
Floristry shops are the most common employers of florists in the United Kingdom and approaching independent shops directly can help turn up jobs about which you may not otherwise have heard. Ringing ahead to ask about openings may save you the trouble of a lot of travel, but it also makes it easier for whoever answers the phone to turn you down with little information. Instead, you may want to consider visiting shops directly, bringing along your CV and/or a portfolio, and asking to speak with or make an appointment with a manager. In addition to flower shops, garden centres and agricultural and horticultural businesses may also be suitable employers for florists.
Finding Floristry Job Advertisements
Many floristry jobs are advertised in newspapers, on websites and via online job search engines. Looking for advertisements for related positions, such as garden designers, horticultural workers, garden centre managers and/or flower market traders may open up a number of new employment avenues as well, though it will be up to you to make a convincing case for how your floristry skills will suit such a position. Checking in with professional floristry organisations may also yield information on new vacancies, as may contacting the institution with which you studied for your floristry qualifications.
Working as Part of a Network
Flower delivery networks do not employ florists directly, but they can be great options for florists working independently who would like to expand their potential client base and make it easier for new customers to get in touch. Interflora is probably the most well known flower delivery service across the United Kingdom, and joining such a network not only means extra advertising and possibly extra work for florists, but can act as something of a reference for customers who know and trust the network itself. Both independent florists and flower shops can join flower delivery networks.
Advertising for New Clients
While waiting to find full time employment as a florist, or possibly instead of or in addition to, you might also consider advertising for new clients and building up your own business. Working with other service providers in the bridal and funeral industries could be a good place to leave some literature, and getting your own website up and running with examples of your work could be invaluable as well. Placing your own ads in newspapers, magazines and around your community is another option for advertising for new clients. Asking regional flower shops if they ever need florists for overflow work or to cover existing staff absences might be another idea, and checking if there are any options for you to offer floristry workshops, seminars or night courses in your area could help you reach new clients as well.
Finding floristry jobs is simply a matter of knowing where to look for them. Approaching floristry shops, finding floristry job advertisements, working as part of a network and advertising for new clients are all ways florists can find new jobs and clients.
You might also like...