Arrangements for Untraditional Weddings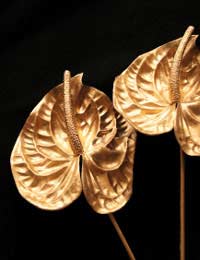 Many modern brides like to put their own stamp on their weddings, and unusual or otherwise untraditional flower arrangements are an easy way to inject a bit of personality into the proceedings. By ordering flowers in untraditional colours, styles and arrangements, brides can tailor their flower arrangements to whatever kinds of weddings they have in mind.
Untraditional Colours
Traditional weddings tend to have conservative and matched colour schemes. These schemes are often tied to the season, for example pastels in the spring or jewel tones in the autumn, or to a holiday, for example blue and silver or red and green around Christmas time. Brides interested in having an untraditional wedding can go ahead and forget these "rules". By using untraditional colours, including those not found in nature, brides can create whatever type of ambiance they'd like. Black flowers in particular can help a bride create a mood that natural flower colours just can't quite reach.
Untraditional Styles
Traditional weddings tend to include bouquets for the bride and bridesmaids as well as buttonholes for the men involved. Untraditional weddings often cut out bouquets for the bridesmaids and instead have them carry a single stem, wear flowers in their hair or don a corsage. Brides too can select from many different bouquet options such as adding fake (or real) pearls, crystals or gemstones to jazz them up a little. Adding coloured netting and/or ribbons can also turn an otherwise staid bouquet into something untraditional.
Untraditional Arrangements
The arrangements found at the wedding ceremony and reception site are another area in which brides can opt for the untraditional. Arrangements that are designed to look like something, for example the couple's initials or new monogram, a giant heart or words with special meanings to the couple, are all untraditional options for wedding flowers.
Centrepieces too are opportunities for brides to select untraditional options for weddings. Some brides opt for floating flowers, single stems or even simple bud vases on the tables. Adding other ornaments such as shells, sand, rocks and/or leaves can also add untraditional interest to such arrangements.
Making The Traditional Untraditional
Some brides may also discover that though they were originally interested in an untraditional wedding they are nevertheless drawn to more traditional flower arrangements for their weddings. There is nothing wrong with this. At the end of the day, the couple should have whatever they want and can afford. Even if other aspects of the wedding are less traditional, couples can still opt for more conservative flowers. This traditional twist, when added to the overall wedding scheme, can even in itself become untraditional for the couple.
Couples interested in untraditional weddings have a lot of options for their flower arrangements. By playing around with the colour, style and arrangement of their flowers, couples can create options that best suit their personalities and plans. However, couples shouldn't worry too much about how their flowers look to others and instead should concentrate on finding the flowers they like the best which also fit their budget. As long as the couple are happy then everything else will fall into place.
You might also like...