Seasonal Arrangments for Traditional Weddings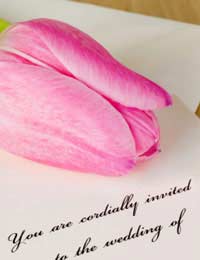 Traditional weddings tend to include seasonal flower arrangements for a variety of purposes. Flower arrangements for the bride and bridesmaids, flower arrangements for places of worship and flower arrangements for the reception tables are all common for traditional weddings. Keeping these arrangements seasonal, so that the flowers included in the arrangements are the flowers that are in bloom at that time of year, can help to cut costs, tie a bride's colour scheme together and ensure the freshness of the flowers.
Seasonal Spring Flowers
The location of the wedding will dictate the types of flowers that are in bloom on the wedding date, but spring flowers do tend to have pastel hues. Tulip, hydrangea, cherry blossom, freesia, lily of the valley, magnolia, wisteria and rose are all flowers that are in bloom in the spring.
Seasonal Summer Flowers
Summer flowers tend to have brighter colours, but they can be tricky to anticipate as wet springs and hot summers can greatly affect their growth. Black-eyed Susan, delphinium, sunflower, begonia, gardenia, pansy, poppy, viburnum, zinnia and garden rose are all flowers that are in season in the summer.
Seasonal Autumn Flowers
Autumn flowers tend to have deep jewel tones and often make striking arrangements. In fact, many autumn arrangements rely on vibrant foliage (leaves and berries) for added colour and interest. Amaryllis, sunflower, chrysanthemum, Gerber daisy, pomegranate, sumac and rose are all seasonal autumn flowers.
Seasonal Winter Flowers
Winter, the season of regrowth, yields relatively few flowers as compared to the others. Winter flower arrangements often include dried flowers and foliage (pine cones, tree needles and berries) to add depth and texture. Rose and forced bulbs (flowers that are brought indoors to bloom on a different cycle) are common additions to winter flower arrangements.
Arrangement Options For Seasonal Flowers
Traditional weddings tend to have elegant flower arrangements including tasteful bouquets, arches and garlands. Special touches like buttonholes, corsages, wreaths, baskets and pew ends can also add personality to a traditional wedding. Mixing in geographic touches, such as shells from a nearby beach, candles from local artisans or foliage from a nearby forest are all tasteful options for personalising traditional wedding flower arrangements as well.
Traditional Wedding Flower Tips
At all times, wedding flower arrangements should be dictated by colour, shape, size and cost. When choosing their seasonal arrangements, brides will likely want to bring their florists swatches of their dress and the bridesmaids' dresses, pictures of the church and pictures of the reception area.
Brides will also want to consider their own complexion so that the chosen flowers will work well for them, and the type of photography that they will be having (black and white photography usually works better with bold colours and interesting, textured shapes). Brides whose weddings fall close to a seasonal holiday such as Christmas or Valentine's Day may also discover that flowers cost more at this time, so selecting lesser known seasonal options is a good way to keep costs low.
Seasonal arrangements for traditional weddings are a great way to stay on budget and keep a local, fresh feel to the event. As soon as the wedding date is known discussions of seasonal flower arrangements can begin.
You might also like...