Donating Wedding Flowers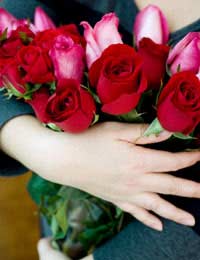 There is a lot of waste associated with big weddings, but donating the flowers to worthy causes afterwards can help reduce the amount that is sent to the rubbish bin. There are a variety of places that flowers can be sent to brighten the lives of others, or flowers can be given to individuals to help thank them for their work on the wedding. If there really isn't any place special to send the flowers, then donating them to Mother Earth by making sure that they are composted also remains an option.
Donating Wedding Flowers To Worthy Causes
There are many places for flowers to find a new home once a wedding is over. Donating wedding flowers to hospices, hospitals, nursing homes, schools, places of worship, community centres, homeless shelters, domestic violence shelters, the offices of local charities or anywhere else that they will be appreciated. However, it should not be assumed that such donations will be welcomed without checking prior to the wedding. Flowers with a heavy scent, in particular, may not be appreciated by organisations working with the general public./p>
Donating Wedding Flowers To Worthy Individuals
Some couples choose to donate their wedding flowers to individuals who have helped them with their wedding preparations. The wedding officiant, relatives who have helped behind the scenes, friends who have travelled a long way for the big day and anyone else the couple chooses may appreciate taking home one of the many arrangements from the wedding. However, most wedding flowers that will be given to others come from the reception site as it is often the case that flowers used to decorate a place of worship are left in place (if the place of worship appreciates them) after the ceremony.
Donating Wedding Flowers To Mother Earth
Some couples find that they have no appropriate outlet for their flowers following a wedding, but don't want to send them to a landfill with the rest of the rubbish. These couples may consider donating their flowers to Mother Earth by making sure that they are composted. Fresh flowers should be removed from their containers, and any water that they may have been stored in, and composted with "brown" items such as paper or card materials. This can be done in a home compost bin and may even be done by the reception venue if the couple clears it with them prior to the day. Guests who have home compost bins may also be asked to take home an arrangement to add to their latest batch.
Donating wedding flowers is a great way to make sure that the waste of a wedding is reduced and someone else's day is brightened by a thoughtful gift. Donating flowers to worthy causes, worthy individuals or to Mother Earth via composting are all worthwhile options for making the most of wedding flowers. However, a couple should decide prior to their wedding day what they would like to do with their flowers so that they are not disappointed if a recipient is unable to take them up on their kind offer.
You might also like...