Bridal Bouquet Options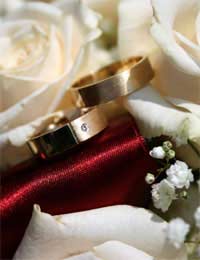 Today, bridal bouquets can be almost anything a bride wants them to be. There can even be more than one bouquet for a bride who wants to carry one for the wedding and one for the reception. In addition to include almost any kind of flower arrangements, bridal bouquets tend to be created in one of many styles: hand tied bouquets, posy bouquets, cascade bouquets, over arm bouquets, crescent bouquets, nosegay bouquets, pomanders, wristlets and single stems.
Hand Tied Bouquets
Hand tied bouquets are perfect for brides who are interested in uncomplicated flower arrangements. These bridal bouquets do not overpower the bride, nor are they complicated enough to take away from her dress or hairstyle. These bridal bouquets tend to be round in shape and the flower stems are tied with simple ribbon, sometimes embellished slightly with fake pearls or gemstones.
Posy Bouquets
Posy bouquets are slightly smaller bouquets that can be more informal in nature if a bride so chooses. These bridal bouquets can be natural or wired, and can be made up of one type of flower or many. These bridal bouquets are circular in shape, though they can appear conical from the side given that the centre flowers can be raised slightly.
Cascade Bouquets
Cascade bouquets, also known as shower bouquets or waterfall bouquets, are a traditional type of bridal bouquet. These bouquets tend to have a centre bouquet with greenery or extra blooms that trail down the front creating a cascade/shower/waterfall effect. A selection of wedding flowers throughout the ages will feature cascade bouquets as these have been a popular choice for many years.
Over Arm Bouquets
Over arm bouquets, also known as arm bouquets or sheath bouquets, are usually made up of long, slender flowers such as lilies or long-stemmed roses. These bridal bouquets make the most of the stems because they are carried "beauty queen style" in the crook of the bride's arm. This is a relatively contemporary style.
Crescent Bouquets
A crescent bouquet is an elegant choice for a bridal bouquet. As the name implies, a crescent bouquet is shaped like a half-moon or crescent and it is usually small and delicate. A crescent bouquet is generally an unusual choice for a bride, but can complement petite brides who do not want to be overpowered by their bouquet and brides who do not want their bouquets to appear "trendy" or look dated in their wedding pictures.
Nosegay Bouquets
A nosegay bouquet is a relatively simple bridal bouquet. It is round and shape, but smaller than a posy bouquet and usually incorporates more greenery. The flowers included in a nosegay bouquet tend to be round and either all of one type or of very similar types. Sometimes nosegay bouquets may be referred to as sweetheart bouquets or sweetheart nosegays.
Pomanders
Pomanders are spherical bouquets that look like a ball of flowers suspended from a ribbon. The ribbon may be carried in the hand or looped around a bride's wrist. Generally the flowers used in this type of untraditional bridal "bouquet" are round as well.
Wristlets
Wristlets, also known as corsages, are another untraditional choice for brides. These small "bouquets" are worn on the wrist and leave the bride's hands free throughout the wedding and reception. Wristlets are very easy to save, dry and keep forever as a wedding memento.
Single Stems
Many modern brides are opting to forego an entire bridal bouquet and carry just a single stem. Brides that do choose to carry single stems usually opt for their bridesmaids to carry a single stem as well, though it does not necessarily need to be the same type of flower carried by all.
You might also like...